Shawnee-Evergreen Community Association
Did you know that more than half of Canadians feel disconnected from their neighbours? And a recent Statistics Canada study confirmed that there is a positive relationship between life satisfaction and individuals' feelings of belonging to their community and whether they know their neighbours. 
Becoming a member of SECA can help you get to know your neighbours through community events, monthly newsletters, and more. Our mission is to create a more connected and dynamic community where residents have a sense of belonging.
Land Use Amendment will Change our Community!
Graywood Developments has applied to rezone an "L" shaped area (see map below) that includes 3 parcels of land at the entrance to the Shawnee Park development adjacent to Beacon Hill. These parcels were originally intended for townhomes.

NOW is the time for you to act
WHAT IS PROPOSED?
Site 1 & 2 – Multi-residential buildings (e.g. apartment buildings, a rental apartment building and a seniors' home – maximum height 26m
Overall density increase (from 451 units to a maximum of 600 units)

Approximately doubling the density on sites 1 and 2.
Site 3 – Commercial developments (e.g. 1 or 2-storey buildings)
Possibly a gas station, convenience store, strip mall though the proposed zoning will allow many options and may include bylaw relaxations.

WHAT YOU CAN DO

1) Attend Graywood's Information Session to learn more on January 29, 5:30 to 8:00 PM at the Fish Creek Exchange Sales Centre (99 Shawnee Blvd. SW)
Ask probing questions. See suggested questions on the SECA website.

NOTE: Verbal promises are not binding, and the final application is not available 

to the public  until the internal review at the City is completed. Track its progress 

here
Do NOT endorse the rezoning until we have acceptable answers on land uses, height, setbacks, parking, traffic etc.
2) Email to provide feedback and ask questions. Refer to questions on the SECA website.
3) Stay informed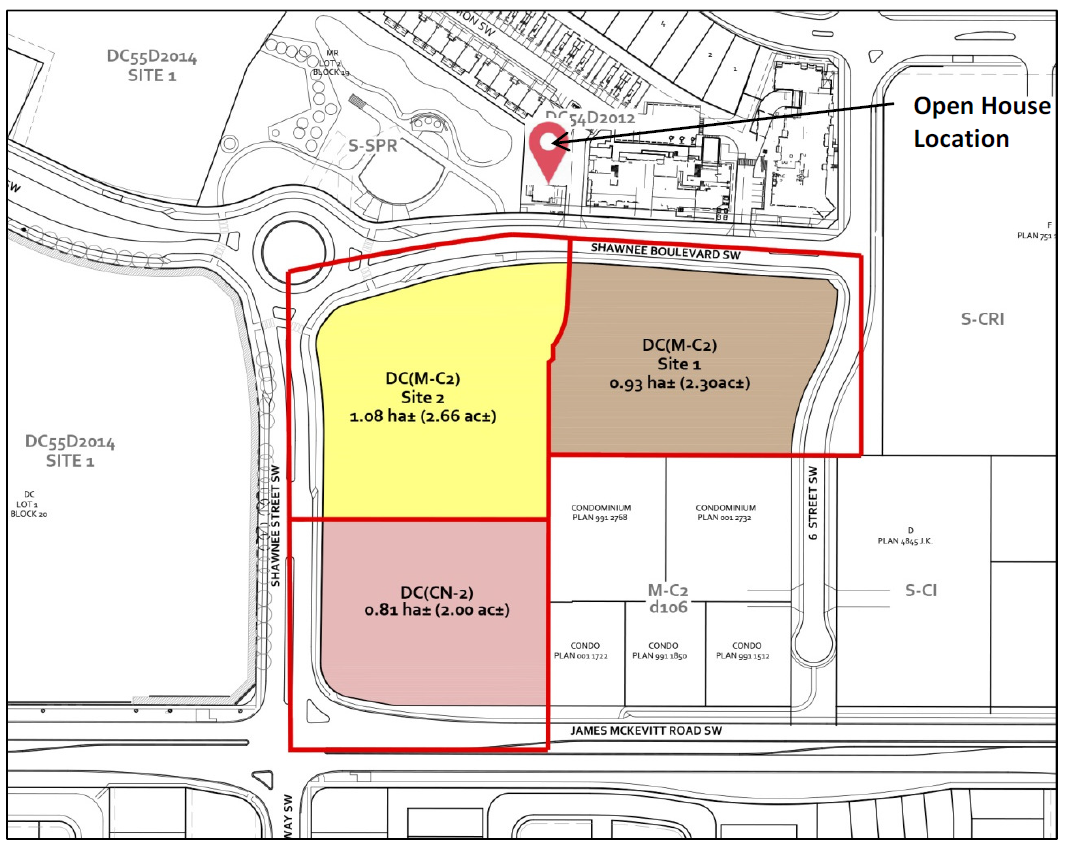 Community News and Events
Graywood Developments Open House – Your input is needed!
Graywood Developments is considering a change of zoning to the northeast plot of land at the corner of James McKevitt Road and Shawnee Street. Instead of more condos and townhouses, Graywood is proposing a mix of higher density accommodations and commercial space (perhaps for a gas station and convenience store). 
They are hosting an open house on Wednesday, January 20 from 5:30 to 8:00pm, at the Fish Creek Exchange sales centre (99 Shawnee Blvd).
See below for the location of the open house and the proposed rezoning areas. More information on the proposed rezoning can be found here.  The file number is LOC2019-0170 
 SECA is preparing a background document and tip sheet to help you provide impactful feedback at the Information Session on January 29th or via email to our Ward 13 Councillor and the City Planner on the file. 
This tip sheet will be shared via our e-newsletter soon and website soon. 
If you aren't currently receiving the SECA e-newsletter you can subscribe via email to info@shawneeevergreen.ca. Or better yet, become a member. Join online for just $20/year.
SECA members are welcome to come to any of our Board Meetings. Your input is valued! If you want to attend, please email your interest to vp@shawneeevergreen.ca
The next board meeting is 11 February at South Gate Alliance church at 7:00. We want to hear from our neighbours! Please consider attending!
NEIGHBOUR NIGHTS are on back for the new year!
Join us in the new year for a chance to make new friends and discuss what would make our community more neighbourly. 
– Join us on 16 January at  7:00 PM.
– We'll be at the Coach and Horses Ale Room across from Sobeys in Millrise.
– Free snacks – buy your own beverages.
– Or arrive early and enjoy dinner with friends. 
Community Beautification Committee
We are looking for volunteers to join the Community Beautification Committee. So far we have received input from our neighbours on projects such as
installing shade in Evergreen Park
adding more picnic tables to parks
painting murals along James McKevitt
building a band shell in Evergreen Park
Do you have ideas? Dislike some ideas? Please get in touch with us at info@shawneeevergreen.ca
Become a Member!
Live in the area? Learn more about our association!